Darmstadt, our next stop, was the birthplace of Heinrich Hoffman, whose "Christ and the rich young ruler" was the portrait of Jesus that Yogananda singled out as the most suitable for altars dedicated to the line of Kriya masters. We arrived there on Friday afternoon after a seven-hour ride. Our hotel was comfortable and, fortunately, there was some time to rest and recharge for the evening event.
Translation has been an important service for Ananda's work in Europe from its onset. In France, Benjamin and Jyotiprashad assisted Asha with side-by-side translation. In Germany, Tobias and Meric had provided the technical support that made it possible for Tobias to translate Asha's inspiring talk simultaneously, with people listening through headphones. Dambara and I played and sang together, and the evening was yet another successful effort to bring Yogananda's teachings and Swami's exemplary discipleship to all seekers of Self-realization.
People had come from as far as Prague to meet with Asha and to be inspired by her stories, her clarity, her wit, and by the grace that she channels. Many copies of her book Swami Kriyananda, Lightbearer were sold. I rejoiced, because I deeply believe in the importance of this text for all those who want to serve and build Ananda in the world. Swami is a role model for enlightened leadership in the future and is therefore a rare gem in this present world. Only those who, like Asha, are deeply in tune with him and have lived with him at close quarters, can endeavor to tell the story of his life in all its subtlety and nuance.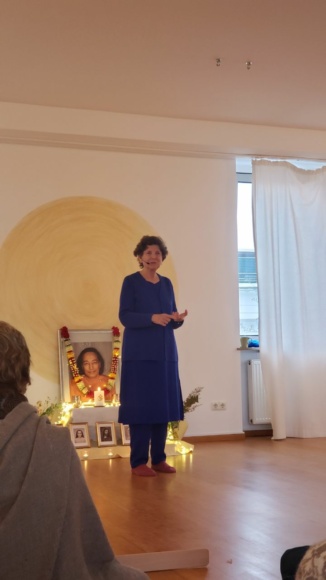 Asha's Friday evening conference was followed by a weekend seminar attended by over twenty sincere spiritual seekers, many of them devotees on the path of Kriya. I myself gave a Saturday morning class on the Yugas, and Asha presented the other two classes. The second one, on Sunday, was a profound explanation of the chakras and how our understanding of them can help us in our search for psychological balance and integrated spirituality.
The Germans already have a legal entity named Deutsche Ananda Sangha. There is a lot of online activity in German, including healing prayers and online community. There are wonderful, well-trained Ananda Yoga teachers, and more will follow thanks to Jayadev's current interest in serving the work in Germany. There is even an Education for Life (EfL) institute, founded by Gioianna, who is also a member of the core team.
The core team currently consists of Carina, Gioianna, Maya, Meric and Tobias. Thank you, Master, and thanks to all for your devotion to God and Guru and for all your wonderful organizational efforts to make this event possible. Jai Ananda Germany (and Austria and Switzerland, too)!