Dear Friends,
We left for Rome on September 25. The traveling party for this journey is Asha, Dambara, and Atul Wadhwa. Asha for most of the talking. Dambara for the music. Atul for videography and helping Ishani with social media.  Ishani isn't traveling with us, but as Keeper of the Instagram Account and now Facebook, and Youtube as well, she is a constant guiding presence.
Most of you know Dambara — longtime Ananda devotee and wonderful singer. Atul is a newer companion. We met last year in Texas, and again at Spiritual Renewal Week and he seemed God sent to help with the filming. If we don't have a dedicated videographer, energy expresses in the moment, but can't be shared in the same way it can be shared if filmed.
He lives in Houston, so we all met our Italian friends — Gitanjali and Gopala — at the Rome airport after the 12-14 hour flights from the USA.
Last year when we came to Europe we brought some of my books in English, and were surprised by how many we sold. In fact, before the end of the tour we had to have more shipped from the USA, which was expensive and inconvenient. So this time we brought books with us. Lots of books. Probably too many books! (So far we've sold 2 in English, more in Italian, but, hey, the trip is just starting!?).
Scroll down to see several photos from our journey, along with more of Asha's words…
Dambara and Asha and 500 lbs (225kg) of luggage! It looks even larger because smaller boxes were put into larger cartons. The clerk in San Francisco assumed we were moving to Italy. We were a bit worried about customs but there was no one on duty in Rome so we sailed through.
The schedule was nicely arranged with a few days in Assisi with no programs to give us a chance to adjust to the time change. Once again I was invited to stay in the apartment Shantidev and Radhika included in their beautiful home. Jyotish and Devi were there during their month-long visit, leaving about a week before we arrived. Then Lahari and Biraj moved in. They are on their way to help with Ananda's work in Mumbai but their visa has been delayed so they've been in Assisi longer than expected. They very kindly left the apartment, and left lovely treats in the fridge for me. After three days, we left for two weeks of travel to several Ananda centers in Italy, and also Lugano, Switzerland.
So I moved out, leaving treats in the fridge, and Biraj and Lahari moved back again. Many devotees in the community are also traveling at this time. After the busy summer season, and Jyotish and Devi's visit, it was time for pilgrimage — two groups going to India and one to Israel. Master's light spreading everywhere.
We were able to spend time meditating in Moksha Kutir — Swamiji's home here, which he called Seva Kutir, but was renamed after his passing, which happened there in that house. Very deep meditation sitting by the bed where he took his last breath. The clothes on the bed are the very ones he was wearing in that moment. We were alone in the house with Swamiji's spirit. Beyond words to express.
Dining room where Swamiji was sitting, waiting for his breakfast, when he had a seizure that quickly led to his exit from his body.
Swamiji's bedroom, where he left his body.  He was wearing his bathrobe and the slippers you see. The papers under his shoes are for a situation pending in Ananda Assisi. They were placed there to receive a special blessing from Swamiji.
Swamiji's meditation room. When this house was built in the late 90s, Swamiji asked several men from the USA to come and help, including David Praver. When they were working on the meditation room, David had a copy of the membership list for Ananda Palo Alto which he placed behind the wall where the Master's pictures sit. Whenever I visit I am reminded again of how Swamiji's blessings are always with us.
Sitting in the dining room of the Ananda Assisi retreat with some of the staff. Sitting next to me is Alex, who is there from the USA for a few months, after spending sometime at Ananda Village. Next to him is Thomas, and Ruby, Gitanjali, and Marco, an Italian who also lived in Spain. I was introduced to him by Anna Crespo, a recent graduate from Living Wisdom High School in Palo Alto who is taking a gap year at Ananda Assisi. Marco had some questions Anna thought I could answer, so we are talking with the essential help of Gitanjali for the translation.  I also had a lovely visit with Anna and was naturally delighted to see how much she is enjoying life in the community. Master's guiding hand everywhere.
Then back into our dedicated travel van, called Sanghi, for a day long trip to the area of Italy called Reggio Emilia. We drove down this road to reach our destination: Ananda Shanti, a newly formed Ananda center in a beautifully rebuilt old building in this rural area, which has now become a small hub of energy for devotees in the area.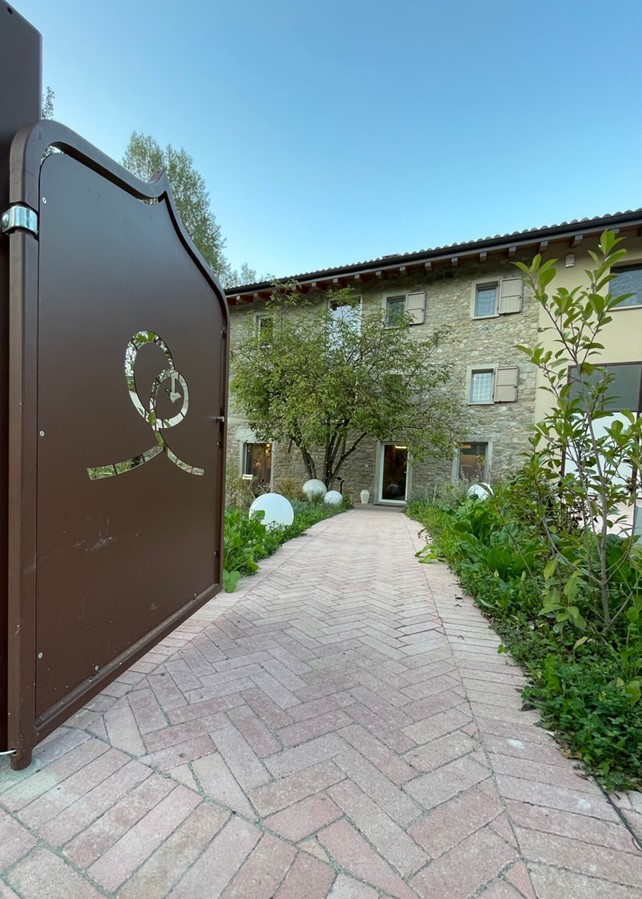 Entryway to Ananda Shanti. Right by the front door is an Elderberry. It is traditional, our hosts told us, to have an Elderberry by the front door. In fact, they re-arranged where to put the front entrance to honour that tradition. When Ananda Village started back in 1969, Swamiji invited Haanel Cassidy to come and live at the community. Haanel was a long time disciple of Master (not a direct disciple, but coming soon after Master's passing) and an expert in the Rudolf Steiner method of organic gardening. He was invited to spend his remaining years meditating — he was already in his sixties — but soon saw that without his help our gardeners would never be able to grow any food. So he trained Shivani, Devi, Sadhana Devi, Ananta, Maria, Kirtani and others. Haanel taught that certain plants were essential for a successful garden, in order to attract the right devas to help. Among those was elderberry, but that plant had to be a little separate from the rest of the garden, because it was where the Queen of the Fairies resided, and she preferred to live a little apart. At Christmas time our hosts had strung the tree with twinkle lights, but when Christmas was over, they felt that the tree preferred to keep the lights. They had not heard the tradition from Rudolf Steiner, as Haanel conveyed it (and as I, I hope, remembered it). We all decided that probably the Queen of the Fairies thought it only appropriate that her home decorated with what many people call fairy lights.
Right inside the front entrance is this old pizza oven now set up not to cook pizza but a place where the Gurus will burn our karma.
Ananda Shanti has been created by Pradip and Ishan sitting here with me at a book signing after our seminar on Saturday. The center is classified as an agroturisomo, a place where farming is done and also where guests can stay. In addition to their own apartment, they have three guest rooms, and a few other spaces where devotees can be tucked in for the night as needed. They also have extensive fields growing spelt, which they make into pasta. Ishan is an architect and continues also to work professionally, Ananda Shanti is a great testament to his architectural skill and Pradip's eye for beauty.
We had a long seminar on Saturday afternoon, and then on Sunday the usual service. I gave the talk — translated into Italian by Gitanjali. She read The Festival of Light in Italian, and Pradip presented the reading. Although I don't speak any Italian, after being together for some days, with lots of translating of formal and informal times from Italian to English and then back to Italian, we all somehow began to understand each other, sometimes even without translation. Devotees share a common language of the heart. They have a meditation hall where it was effortless to go deep into the silence.
Also a living room with library and piano. Two of those attending the programs are singers and songwriters and they gave us a concert in the "community room." He also plays the piano. So much devotion poured into their music.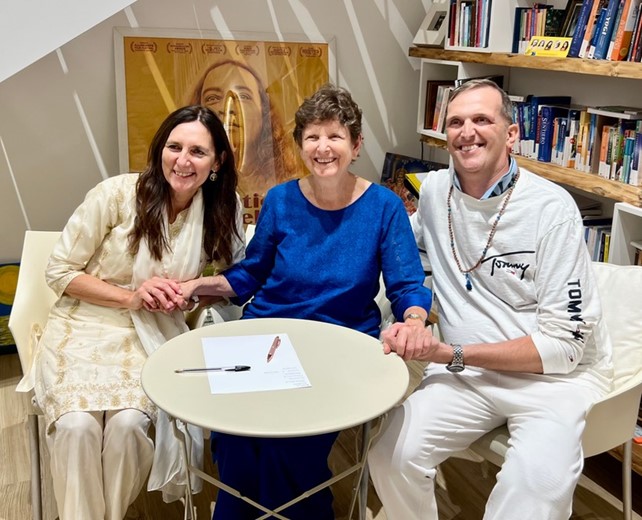 Nandini and her husband Ramanand. Nandini has, for many years, managed the Italian publishing company. She has been central to planning this trip and also our trip last year. Here we are at the book signing after the program.
And other newly met soul friends.
One of the glorious features of the meditation hall is an enormous, orchestral quality gong. Pradip treated us to a "sound bath." He has studied how best to play the instrument and with two soft mallets created extraordinary sound. We've been meditating together morning and evening, and one of our meditations began with the gong. Already deep meditation went suddenly even deeper. It always delights me the way Divine Mother guides each of us into that way of self-expression that most matches our own vibration and Her plan for our lives.
When it was finally time to end our weekend together, we were all reluctant to separate. Singing Swami's beautiful song of farewell helps sweeten the moment. When we were traveling before we called this moment of separation the "boo hoo moment." Apparently there is no exact equivalent to "boo hoo" in Italian, but we got the meaning across. In France last year we called it the "beaucoup boo hoo moment."
We stayed through Monday, giving us a day to enjoy the company of our hosts, to feast a little more on wonderful vegetarian cooking, including the home grown, home manufactured pasta, and fabulous cheese.  You can't spend time in Italy without commenting on the food!
And walks to local sites, including a chapel built centuries ago at the top of a nearby hill. Some centuries ago there was a powerful, wealthy woman who lived in this area, who helped end a war between the Pope and some other local royalty. The Pope wanted to reward her and asked what she wanted. She said, "To perform the Mass." Of course, then, and now, no woman is allowed to lead the Mass. The Pope said, "If you build 100 churches, then you can say the Mass." She built 99, but died before she could build the last one needed! The church was partially destroyed by bombs in World War Two, but then lovingly rebuilt in the same style. It is a lovely place to meditate. And in honour of the woman who built it, Gitanjali and I at least stood where she never quite got to stand!
We also visited an extraordinary rock formation at the top of a nearby mountain, and the chapel built into the mountainside. This church, too, has been there for many years. "Old" when speaking of buildings has a very different meaning in Europe than it does in the USA! At one time there was also a small monastic community there. In Kali Yuga, when this church was first constructed, those with serious spiritual aspiration lived completely apart from the world. The gap between ordinary life and spiritual life was simply too wide to bridge, so devotees withdrew into monasteries. The rock mountain created such a still, timeless feeling. Our lives are so different from that of the monastics who once lived there. And, in fact, we would probably be restless to serve if we tried to retire there now. But, oh my, it was tempting!
This church is dedicated to the Nativity. There is a painting of Mary and baby Jesus over the altar. There have been apparitions of Mary in the church and a number of miracles have happened from the power of that image.
Just before we left Ananda Shanti this morning we got to visit the pasta making room and see the remarkable drying racks and the pasta machine. They take the grain they grow to a nearby mill. As it happens, the building they renovated used to be a grain mill. The stone wheels used to grind the grain are now set into the floor of the entrance area. Pradip — in the yellow sweater — is the pasta maker. What a great view out the window!  A nice place to work for sure.
Ananda Shanti is filled with beautiful spiritual images, including this painting of Anandamayi Ma done by Shantidev from the Assisi community.
We are now on the road to Ananda Giri, another new community that we visited last year, located in renovated buildings in a small village dating back to medieval times. We'll be there through the weekend with lots of time to be with our hosts, go on outings to beautiful and interesting sites, as well as giving a number of programs for devotees in the community and those who come from nearby. More about that next week.
And the one from whom all blessings flow….
In divine friendship,
Asha